Creative urban cities full of energy
---
Founders of Dutch Design
North Brabant is the Design District of the Netherlands, internationally acclaimed. It has a rich industrial past including the textile industry and technology giant Philips, and with design, creativity and innovation it is now laying a foundation for the future. Visit characteristic places from industrial city locations to leading DesignLabs.
Urban & Design
The rich industrial heritage of cities such as Eindhoven and Tilburg forms a beautiful backdrop for top-level design and innovation in an industrial urban environment. Top designers such as Maarten Baas and Piet Hein Eek have found their inspiration here and new talents are able to learn the trade and showcase their works through the Design Academy in Eindhoven.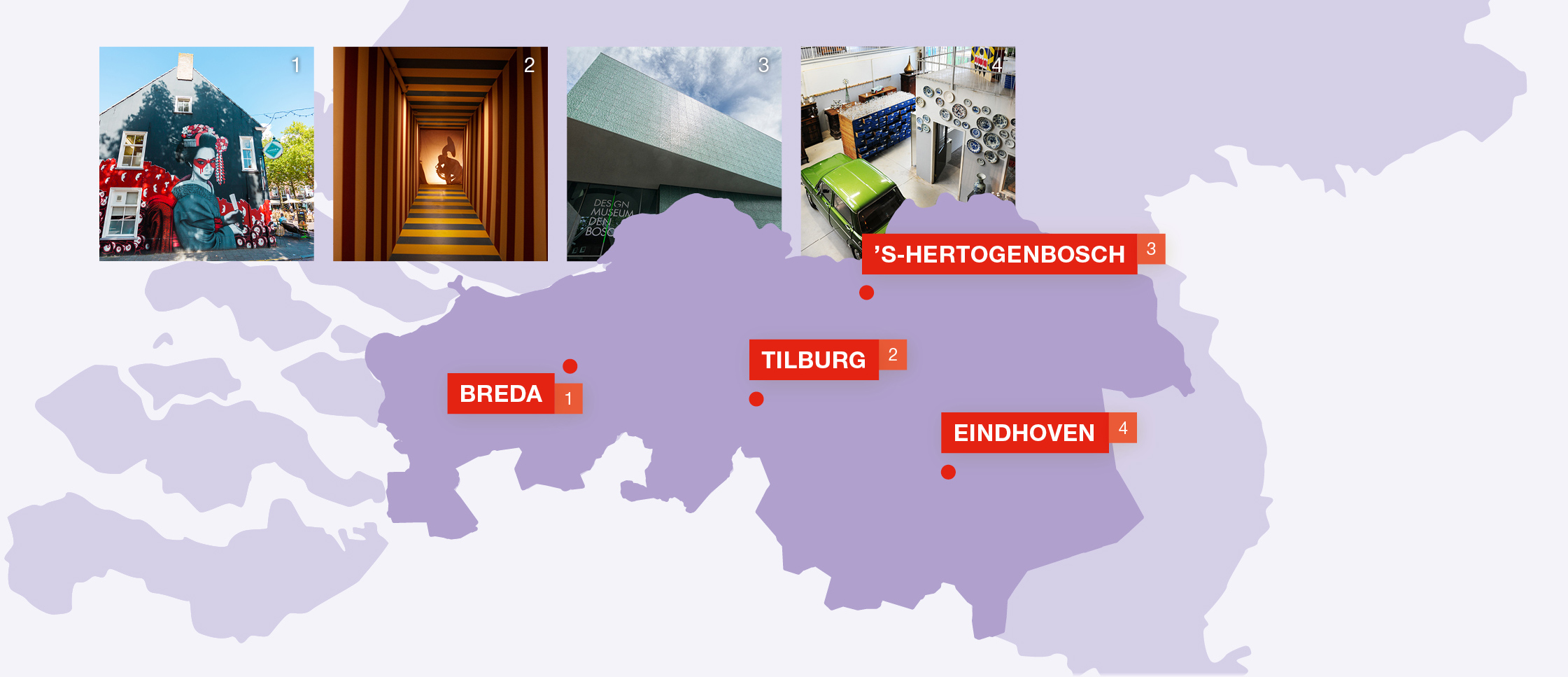 Eindhoven
Eindhoven is the city where Philips, the large electronics company, was founded and grew succesful. The former factory locations at Strijp-S (photo) now form the backdrop for a unique urban hotspot. Strijp-S guarantees beautiful historical stories in an impressive environment, where designers shape the future.
Tilburg
The Spoorzone in Tilburg symbolizes the rough and unconventional character of this city. The beautiful and impressive LocHal (photo) and the gigantic labyrinth artwork Doloris form the pearls of this unique area in the centre of the city.
Design hotspots
North Brabant has many design hotspots, such as Social Label and the Design Museum in 's-Hertogenbosch, the Blind Walls Gallery (photo) in Breda, the TextielMuseum in Tilburg and Kazerne and the Van Abbemuseum in Eindhoven. Why not discover the cities and hotspots by bike.
Photo: © Marloes de Hooge Travelvalley
Dutch Design Week
The Dutch Design Week is a leading multi-day design event. More than 350,000 visitors from all over the world visit the Capital of Dutch Design Eindhoven every year to see the unique way designers are shaping and implementing the future. Feel the authentic vibe of creativity, design and innovation.
Packages Urban & Design
Visit the unique industrial birthplaces of design and innovation in Eindhoven, Tilburg and other spots in Brabant.
Take a look at our special (multi-day) packages and add to them according to your own wishes for a relaxing and interesting experience in North Brabant.
Festivals and events
North Brabant is known for its many events and festivals: from light art festival GLOW in Eindhoven to the Roadburn Festival for underground music in Tilburg. From hip-hop festival Woo Hah in Hilvarenbeek to data visualisation event Graphic Matters in Breda. Visitors from all over the globe know that there is always something going on in North Brabant.
Cupola by DeCagna - Photo: © Claus Langer
Social Label
---
's-Hertogenbosch